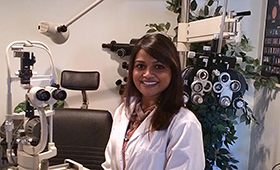 Dr. Blessy Philip was born in India and raised in South Florida. She moved to Dallas, Texas to attend University of North Texas, where she got her Bachelor's degree in Biology. She completed her doctorate degree at University of Houston College of Optometry in 2014. She did her externships at Community Eye Care in Forth Worth, Texas and Good neighbor eye clinic in Houston, Texas.
Dr. Philip provides comprehensive eye exams for pediatrics and adults. As a therapeutic optometrist and glaucoma specialist, she is trained to diagnose and manage many medical conditions including ocular surface diseases, diabetic retinopathy, glaucoma and macular degeneration. She is skilled in fitting specialty contacts lenses for astigmatism and multifocal lenses for presbyopia. She strives to provide the best quality eye care to meet her patients needs
Dr. Philip is a member of American Optometric Association and Texas Optometric Association. She is also an active member of Metro Church of God. In her free time, she enjoys spending time with her family and friends, cooking, eating, shopping and doing various arts and crafts.